The Illuminati, the made up fairy tale about a bunch of Satanic servants who are either the NWO or gave birth to the NWO. The guys that own everything, have made every rich athlete, singer, actor, and business man defect to the darkside to obtain wealth and fame and wait... it's not fairy tale!
The Illuminati have left traces all throughout the National Basketball Associations biggest stars. Lebron James, Chris Paul, and Kobe Bryant. It's funny that these guys all have so many things in common and are all connected to the Illuminati yet all three are at the top of the league. Don't believe me, well let's break it down!
The numbers. It's all about the numbers in Satans game. I'm sure you Christians are aware that 666 is the mark of the beast, if you don't well trust me that's what your book teaches. And with these three men we have proof in the numbers. Simplest is Chris Paul, who wears the number three, which is, as you know, a denominator of six. Kobe Bryant once wore number eight proudly, until he got associated with another Illuminati recruiter by the name of Spike Lee (remember this name). Now 8 doesn't fit to 6. But his new numbers, 24, fits into six many ways. Firstly is 2+4 = 6.And then the fact 24 can be divided by six in simple mathematics. See where I'm going? To become a member he had to change his number. Now let's move onto Lebron James. While Jay was recruiting him for a long time and he was likely a member for a while the devil changed who he was. People loved him, and Satan doesn't enjoy love. So he does what, influences Lebron to join the heat. Heat being symbolic of fire which in itself heat+fire=Hell. Not only that he changed his number to 6 only after joining the heat. Hmmm, to number changes by top players at that time that fit into 6.... Let's not mention that Lebron was also transformed into a bad guy image, fitting for the devil. Kobe had previously been the bad guy, Paul is next (trade rumors, not wanting to play in N.O. etc..).
But maybe numbers are a coincidence aye? Let's look at the followers.
Everybody and their mother knows Jay-Z is an Illuminati Priest.
(Jay-Z holding up the Pyramid with one eye over it)

And funny that he would be great friends with both Lebron James and Chris Paul. For those who know those little devilish guys known as the Nati, you know the Egyptian Pyramid and Eye of Ra was jacked by them and turned super evil. We know the Elite control everyone and their eye over the pyramid represents their watchful eye over the slaves they control (slaves built the pyramids). Jay-Z throws up this pyramid every, and his buddies Paul and James (Ironically two Christian names both as last names) seem more than eager to show their devout Satanic faith.
(Lebron and Chris Paul throwing up the Pyramid)
If you don't believe that and think it's just the ROC and James and Paul are friends with Jay let's look at Kobe, who isn't good friends with Jay-Z and also enjoys making pyramid signs as well...
What about Kobe's recruiter... a man already mentioned as Illuminati member Spike Lee. He also seems eager to make pyramids with his metacarpals... maybe this was Kobe's inspiration for a not so ordinary hand gesture.
So there's a connection of friends and non friends who have similar hand gestures big whoop, or big payday.  Paul, James, and Bryant are top three in the NBA in revenue generated, even with James and Paul not receiving top salaries.
More proof? This little girl will tell you that God hates fags, yup, fags.
More evil than rapists, child molesters, murderers, gays have always tried to make mankind stray from God. And valaa! We have Kobe Bryant portraying one of these gay men for a nationally published photo shoot.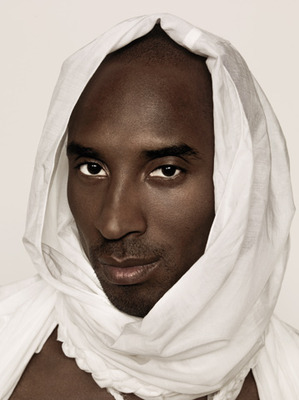 And then we have Lebron James, performing his ritualistic Satanic ceremony on the court before games in front of everyone, as if nothing else matters.  Notice he flashed the three's three times. 3+6 = 6,  6 shown 3 times = 666. Then he draws the line between him and God, and then mocking points at God afterward.
this can be seen here - http://www.youtube.com/watch?v=x8rSexNF4Ts
However you people can remain blind, not literally, but figuratively speaking. This is to you Stephen Jackson and all your Illuminati cohorts. Eye see what's going on, and I'm exposing you!

(Stephen Jackson throwing up the 3's for 666. The man has a tattoo of praying hands holding a gun, obviously saying metaphorically to kill God.)